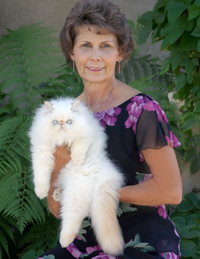 Hi, my name is Darlene Smith and I live in the warm Temecula Valley of Southern California. I have been raising and selling beautiful doll-faced kittens for 30 years. I just love making people happy by placing a beautiful purring kitten in their arms to love and cherish for many years to come.

My cats are all PKD and Leukemia negative. They are also very social because of being raised in our home. We have most colors of Himalayan and Persian kittens.

The papa is Darling Purs Winston of Kittytales of Kittytales, a show quality Seal Point Himalayan. The mamas are Kittytales Spooky Shadows, a Dilute Calico Persian and Windyvalley Wild Butterfly of Kittytales, a Blue Patched Tabby and White Persian.

When you buy a kitten from me, I send you home with a folder containing the CFA registration papers, a signed copy of your contract, a one year health guarantee, a copy of the pedigrees of the parents, a copy of the kitten's vaccine record, Royal Canin kitten food, and pictures that I have taken since their birth. I also have you pose for a picture with your new baby kitten for the website, if you should choose to do so.

My prices range from $850 to $1300, depending on the quality of the kitten. Breeding rights for the kittens are $500 extra.

I'm sorry I do not ship because of the stress on the kitten, but if you would like to, you can fly out and pick it up, which works well as many do.

I will also personally deliver the kitten to you if you pay my expenses.

If you would like to purchase a kitten from me, I would enjoy talking with you first, so please give me a call and I will ask you to send a copy of the contract with your information and the $350 deposit for your place in line to pick the kitten of your choice. When they are 5 weeks old, I invite you to come to my home and see and choose your special kitty. If you do not choose a kitten from this litter your deposit carries on to the coming litters where you will have first choice. After 10-12 weeks when you bring your kitty home, I ask that you please pay by cash or cashier's check. Now, enjoy looking at my beautiful cats and their kittens.